*Keterangan/ketentuan :
> Harga pembelian langsung ke tempat kami di- :
- Huawei Jakarta Selatan , Pasar Minggu Jaksel harga diatas.
- Huawei Jakarta Pusat , Mall Mangga Dua Square harga diatas.
- Huawei Bekasi , Pondok Gede +Rp 3.000 dari harga diatas.
> Ivorystorage adalah Reseller Huawei Indonesia sehingga Kami hanya menjual produk baru yang bergaransi resmi distribusi Huawei Indonesia yang memberikan Anda kepastian jaminan mutu danperlindungan/garansi pemakaian.
---
Video Penjelasan Produk:
Modem GSM HSPA Power-Fi E8231 Huawei berbentuk Flashdisk berukuran 88x27x11.5mm dengan berat +30 gram memiliki GPRS/2G EDGE Support (Quad Band EDGE/GPRS : 850, 900, 1800, 1900 MHz), UMTS/HSDPA Support (Dual Band UMTS/HSDPA: 900,2100 MHz), Download: 21.6 Mpbs, Upload: 5.76 Mpbs, Unlock GSM SIM/USIM Card Support, USB Power, Plug-Play, WiFi Router untuk 10 koneksi WiFi, O/S Compability(Windows Vista/XP/7/8 dan MacOS X) sehingga Anda dapat berselancar didunia maya/internet dengan bebas memilih jenis SIM Card kartu GSM Handphone dengan kecepatan download hingga 21.6Mbps, support 3G, bebas berinternet dibanyak tempat(mobile/remote area), 15 detik pemasangan ke Powerbank/Car Charger/USB Power Adaptor/komputer PC/Laptop/Notebook tanpa harus mendownload software(plug in driver otomatis aja) dan bisa berbagi internet dengan Hotspot WiFi pada USB Modem ke 10 koneksi user lainnya.
Produk ini dapat juga digunakan pada Windows Windows XP, Windows Vista, Windows 7, Windows 8, Mac dan Support IPV 6.
Technical Specifications
Network connection setup: 
APN management
Set up network connection
SMS: 
Writing/Sending/Receiving
Sending/Receiving long messages
Group sending
Storage: The messages are saved up to 500 items.
Sorting
New message prompt
PIN Management: 
Activate/deactivate PIN
Changing PIN
Unblocking by using the PUK.
Device information display: 
Connection status
Signal
Operator name
System mode
System requirement: 
Windows XP SP3, Windows Vista SP1/SP2, Windows 7, Windows 8(Does not support Windows RT), Mac OS X 10.6, 10.7 and 10.8 with latest upgrades
Your computer's hardware system should meet or exceed the recommended system requirements for the installed version of OS
Display resolution: 800 × 600 or above
Mobile Wifi E8231
Faster and powerful high speed up to 21Mbps. Provide a better wireless signal to your end. Is Ideal solution for small consulting teams.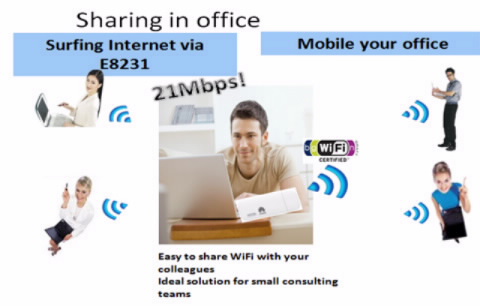 Multiform and Easy connect
Just plug to USB power supply adapter, easy connect to all your device via wifi.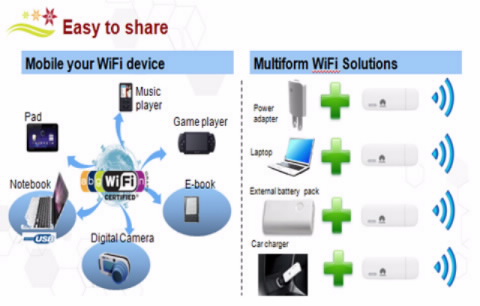 Journey with more fun
Power up E8231 with car USB charger, make your journey with full of joy and share it out to all your friend and family member.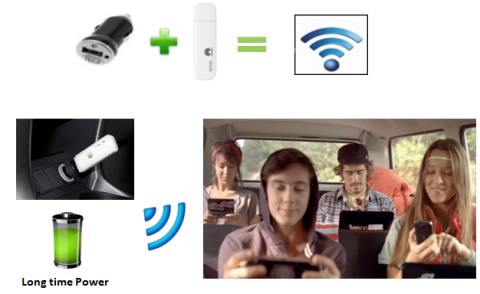 Berat Pengiriman Produk: 1 Kg
Kode Ivorystorage: 10000227200
Seri Produsen: 

E8231