*Keterangan :
> Harga pembelian barang bila langsung berkunjung ke toko kami adalah sebagai berikut :
- Toko Komputer Jakarta Selatan , Reseller Logitech Jakarta Selatan , harga diatas ditambahkan Rp 4.000,-.
- Toko Komputer Jakarta Pusat , Reseller Logitech Jakarta Pusat , harga sama dengan diatas.
> Ivorystorage adalah reseller resmi Logitech Indonesia sehingga Kami hanya menjual produk yang bergaransi resmi distribusi Logitech Indonesia yang memberikan Anda kepastian jaminan mutu dan perlindungan/garansi pemakaian.
---------------------------------------------------------------------------------------------------------------------------------------------------
---
Wireless Mouse M331 Red Logitech berukuran (tinggi x lebar x tebal): 105,4 mm x 67,9 mm x 38,4 mm merupakan mouse tanpa kabel warna merahyang menerapkan teknologi optik 1.000 dpi dan Logitech® Advanced Optical Tracking yang menggunakan intensitas cahaya dari lampu Led dengan akurasi penandaan perubahan gerakan pada permukaan mouse pad dan scroll dengan presisi mikro sehingga sensor pada bagian bawah mouse mampu menterjemahkan perpindahan mouse dengan akurat(0.025mm/gerak) untuk mendapatkan pergerakan kursor pada monitor yang baik /halus dan leluasa menjelajahi internet. Mouse M331 menggunakan logitech® Advanced 2.4 GHz wireless yang bekerja untuk menghubungkan tanpa kabel antara transmitter dengan Nano receiver Mouse pada frekuensi 2.4 GHz yang dapat mengeliminasi penundaan/putusnya koneksi karena transfer data 300x lebih cepat dan bentuk pegangan tangan yang ergonomis berbahan karet sehingga Anda dapat bekerja dengan andal, gerakan mouse yang bebas kabel, ringan, bebas gangguan koneksi, penggunaan energi yang rendah yang menghemat konsumsi baterai dan menghemat uang pembelian baterai baru. Mouse Receiver 2.4 GHz berukuran sangat kecil dan menggunakan koneksi USB yang dapat terhubung secara instan(Plug & Forget) sehingga Anda dapatmemasangnya pada Notebook PC tanpa perlu melepas receiver lagi saat Notebook di simpan kedalam tas sehingga menghemat waktu penyiapan/penyimpanan Notebook, mendukung mobilitas kerja Anda dan menghindari hilangnya Mouse receiver. Mouse ini dapat juga digunakan untuk Windows® 10 atau versi terbaru, Windows 8, Windows RT, Windows 7, Mac OS X 10.5 atau versi terbaru, Chrome OS™, Linux Kernel 2.6+2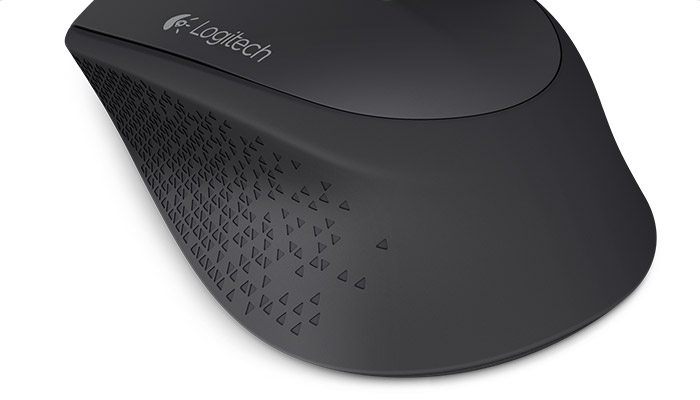 Comfort inspired
Finally, busy hands get the comfort they deserve. Even when you're hard at work, the natural curves and soft rubber grips support your hand.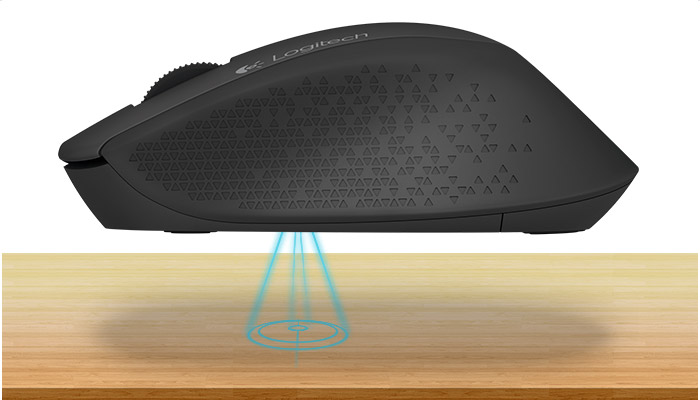 Smooth and precise tracking
Enjoy smooth cursor control, precise tracking and easy text selection thanks to Logitech Advanced Optical Tracking.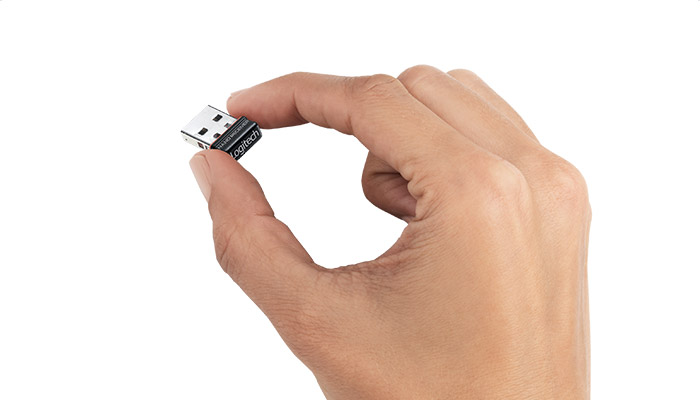 Plug-and-forget nano receiver
Plug it once and forget it. The tiny wireless receiver practically disappears in your computer's USB port or stores inside the mouse when you're not using it.
24-month battery life*
Work, play, connect and create without worry. M280 automatically puts itself to sleep when you're not using it.
* Battery life may vary based on user and computing conditions.
DIMENSI

Mouse (tinggi x lebar x tebal): 105,4 mm x 67,9 mm x 38,4 mm

Nano receiver (tinggi x lebar x tebal): 14,4 mm x 18,7 mm x 6,1 mm

SPESIFIKASI TEKNIKAL

Tipe Koneksi: Koneksi wireless 2,4GHz

Jangkauan wireless: 10 meter

Connect / Power: Ya, tombol on/off

Daya Tahan Baterai (tidak dapat diisi ulang): hingga 24 bulan

Teknologi sensor: Ya, 2D, mekanik

Resolusi sensor: 1000 dpi

Tombol Standar dan Spesial: Klik tengah

Ukuran kemasan produk(PxLxT)-Rev0: 20.8x15x7.5cm
Berat produk dengan kemasan: 0.14 Kg
Berat Pengiriman Produk: 1 Kg
Kode Ivory storage: 097855124012

Seri Produsen:

 910-004916

(Red)